If you've ever researched SEO ranking factors for your business, you may have come across information about how essential the speed and performance of your website are for SEO. With enough digging, you've probably wondered "Does web hosting affect the SEO performance of my website?"
Well, in some cases your website host can affect your SEO, but that's an over-simplified answer to the question. So, we're going to help you understand in what ways a web host might affect your SEO.
How Does Web Hosting Affect SEO?
Whether you're preparing to launch a website or your site is already online, these are two factors you should review to determine whether or not your web host is a good fit for your SEO needs.
Speed
In 2010, Google began announcing that speed would be a ranking factor for desktop search and in 2018, it became a ranking factor for mobile searches.
In 2021, the Core Web Vitals update elevates the need for a better user experience and takes into consideration how long it takes before a user can interact with a page.
What does this have to do with your web host?
Choosing a web hosting provider that can't deliver the bandwidth required for your website could affect your speed and therefore your ranking potential.
Although small sites can often get started on inexpensive shared hosting plans, it may not be a long-term solution, depending on the growth of the website.
A large website with thousands of pages and a large amount of traffic isn't going to run well on a shared hosting plan with limited resources.
Downtime/Uptime
Starting with the basics, uptime is the amount of time, usually shown in percentages, that the server has continued to run (making your website available for crawling by search engine crawlers like Google).
Downtime, on the other hand, is the time your website is unavailable for search engine crawlers.
So what does this have to do with your SEO performance?
A lot!
Every time a crawler, like Google, comes to your website and is served an error and can't reach the site, your website will take a small hit in ranking. And if Google can't reach your website for days, it's possible to have your website removed from Google's index and stripped of its ranking ability.
That's not good!
So, choosing a reliable web host with a high uptime goal is a start. But, it's easy for a web host to claim these guarantees and fail their customers!
If you haven't done your research, it's possible to fall victim to the countless articles that suggest a list of "top web hosts" only to be burned by terrible service and lower-than-expected downtimes.
How does that happen?
Many of these so-called "best" web hosting providers provide affiliate marketing commissions to websites that definitely make sure to link to every one of them instead of trying out hosting and giving honest opinions.
Which Web Host is Best for SEO?
Do your research and ask trusted website and SEO professionals what truly are the best hosting providers based on experience.
For what it's worth, we've had experience with one of the most well-known web hosting companies only to have been burned. From regular downtimes, turning off an active domain and terrible service, we've learned our lesson.
Our recommendation (and yes, this is a referral link) is BigScoots, hands down! They've provided excellent uptime and superior customer service (24/7) from sales to the management of our websites.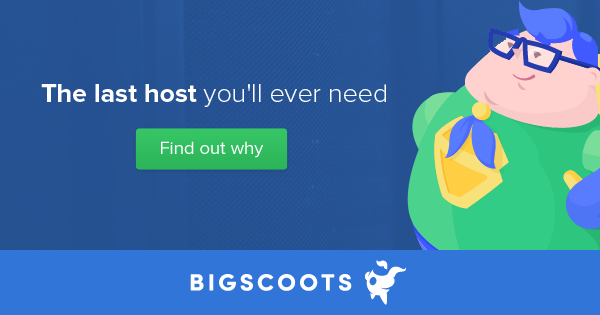 Not ready to take our word for it?
We understand that cost may be a factor in choosing a web hosting provider, however, there are a few other things to consider before making the decision.
Check real reviews – Capterra, G2 and even professional marketing groups can share their experiences with web hosts to help you make a decision.
Check scalability – as your site grows, and therefore your needs, how much will changing plans cost? Is it comparable to other hosts?
Security – Is protecting your website included in your hosting plan or do you have to pay extra?
SSL Certificates – Will an SSL certificate be included in your hosting package or do you have to set one up yourself?
Storage – how much storage will your plan offer and is it enough for the size of your website?
Support – What kind of support will your host offer and are they easy to reach?
Because SEO is important to online success, dealing with hosting issues that could impact SEO efforts is not an option.  We want to know that we can rely on our web host to consistently show our website to both users and search engine crawlers as well as have the support we need when things don't go as planned.